What fun it is to hear one of my works of art has brought joy to another owner. Starting out as an artist provides a unique perspective on the world, lonely and fearful. Your mind could reel with worry that nobody will like your work. I search for a gallery that wants to take a chance on large, one of a kind,
feather rishi
works.
This work, for instance, "
Amethyst Pheasant - Peacock Pheasant Rosette
" started with a single feather. I played in Photoshop for many hours experimenting, stringing feather to feather to create this effect. You can
buy prints
on Fine Art America (dot) com.
T
he Lacy Wyandotte feather you see above was molted one fine summer day. At the time I only had the vision to save it in the freezer to kill any pests, to wash and carefully dry it. Years later I would photograph it with a Nikon D80 and Nikkor macro lens.
I also used single feathers to make postage.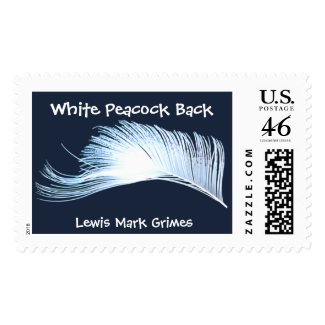 0101White Peacock Back Postage
by
LewisMarkGrimes
Browse Collector Stamps online
Introduced in $.46 denominations, please choose from up to 24 different plumes and a dozen different prices including priority mail. I work exhaustively with the chosen feather in Photoshop. Each feather is art.
Where would you find a more beautiful picture of your favorite pheasant, peafowl or rare feathers?
Thank you for reading this blog
(c) 2013 Lewis Mark Grimes